Pacemaker given to 106-year-old man from Colchester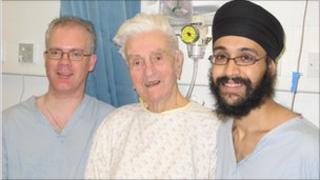 A 106-year-old man from Essex has become one of the oldest people in England to have a pacemaker fitted.
Leslie Dunn underwent surgery to implant the device at Colchester General Hospital after being found to have a weak heartbeat.
Mr Dunn is expected to make a full recovery from the operation.
The hospital said it believed only a few people older than him have undergone such a procedure, including a 107-year-old from Scotland.
The hospital has previously fitted pacemakers to two 101-year-olds.
Dr Allan Harkness, lead cardiologist at Colchester Hospital University NHS Foundation Trust, said despite the age of the patient the operation had been a straightforward one.
He said: "As you get older the vessels in the body can get somewhat more tortuous and difficult to navigate.
"But for Mr Dunn, his case was as straightforward as for someone in his 60s."
Mr Dunn was admitted to the hospital after collapsing at home while making a cup of tea for friends.
The former major in the Coldstream Guards was described as being in "remarkably good condition" for someone his age.
The only medication he takes is one pill a day for a prostate condition.