Memorial bench plaques stolen at Essex seaside resorts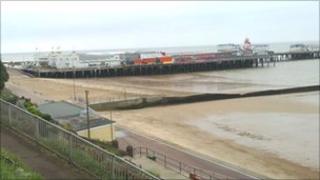 The theft of dozens of brass plaques from memorial benches at two seaside resorts in Essex has been as branded "heartless" by a local council.
Tendring District Council said 21 plaques had been taken from benches in Clacton-on-Sea and a further 38 from Holland-on-Sea.
So far 15 of those stolen from Clacton have been recovered, many of which were found dumped in a hedge.
The council said the plaques were worth little on the scrap metal market.
'Pang of guilt'
Its deputy leader, Councillor Peter Halliday, said the thefts were "extremely sad".
He said: "To most people these are just benches along the seafront.
"But for the people who put them there as a memorial bench, they are places where they go for quiet reflection and remembrance.
"To turn up to your usual bench to sit with your plaque for your loved ones and to find it missing must be absolutely heart-wrenching."
The plaques in Clacton were taken from benches between Martello Bay and Marine Parade West.
Mr Halliday added all of them would be replaced.
He said: "We're hopeful either the people who stole them or the people who may have bought them as scrap will have a pang of guilt and they'll turn up.
"To find 15 dumped in a hedge show the measure of respect for what's been stolen."
Anyone with information about the remaining six plaques has been asked to contact either the council or police.