Rise in memorial bench plaque thefts from Essex resorts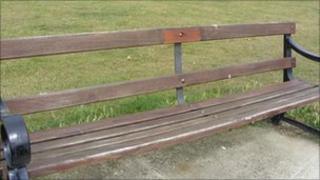 The number of brass plaques stolen from memorial benches along a three-mile (5km) stretch of seafront in Essex has risen to more than 70.
On Tuesday, 21 plaques were discovered to have been taken from benches in Clacton-on-Sea.
Further searches by Tendring District Council have now found a further 52 are missing from nearby Holland-on-Sea.
So far 15 of those stolen from Clacton have been recovered by police. Many of the plaques were found in a hedge.
The council said the plaques were worth little on the scrap metal market.
Its deputy leader, Councillor Peter Halliday, said: "I cannot speak too lowly of those who have carried out these thefts.
"I hope they are tracked down and dealt with through the courts."
Anyone with information about the missing plaques has been asked to contact either the council or police.