Southend to get new multi-million pound public library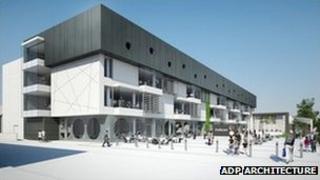 An Essex town is to get a new multi-million pound public library and learning centre.
The £27m building in Southend will replace the town's existing Central Library and be built on the site of the former Farringdon car park.
The four-storey structure, to be called The Forum, will be funded by Southend Borough Council, the University of Essex and South Essex College.
The Conservative-led council approved the plans on Wednesday.
The main contractors on the project will be announced in January 2012 and the library is expected to be completed by August 2013.
As well as a new public and academic library, the building, designed by architects ADP, will also be used as a teaching and training facility by both the college and university.
It will become home to the town's Focal Point Gallery and there are also plans for a big screen.
Southend Borough Council is to spend £12.5m on the project.
'New focal point'
Councillor Derek Jarvis, executive councillor for culture and tourism said a new location for the library was needed.
He said: "The old Central Library is actually north of the town now and isn't really in the centre.
"It's still a reasonable building, but the actual use of it is not as efficient as we would like.
"So we planned to get ourselves a library in the centre of the town and the opportunity came to work with university and college to get maximum benefit from a combined building."
The University of Essex is putting £10.4m towards the building and £4m will come from South Essex College.
Its acting principal and chief executive, John Hayles, said it was money well spent.
He said: "This allows us to expand our opportunities for higher education.
"We're looking to attract more students to the college, which will obviously attract more revenue for us.
"It will create a cultural centre and will become a new focal point for the town."