Dead snake found in Basildon bin prompts owner warning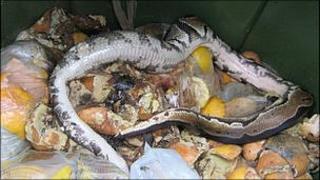 Exotic pet owners have been urged to research their animals properly before buying them after a python was found dead in a waste food bin in Essex.
The 3ft (0.9m) female royal python was found dumped in the bin at a block of flats in Basildon.
Basildon Council's animal control officer Sarah Moran said it appeared not to have been looked after correctly as it was thin and covered in mites.
She said most cases resulted from ignorance of the animal's requirements.
Mrs Moran added: "It's just a lack of knowledge, it's not intentionally setting out to harm the animals.
"It's the very basic stuff we come across all the time which causes the problems.
"You need to have the money, you need to have the knowledge and you need to have the time to look after these animals."
Mrs Moran said she believed the majority of people who owned exotic pets did so because they had a "genuine lifelong passion" for the animals.
But she said others had them because they were seen to be "a cool pet to have".
She added: "Dead animals should not be disposed of in this way either, and pet owners should speak with their vet to make appropriate arrangements."