British disc golf tournament held at University of Essex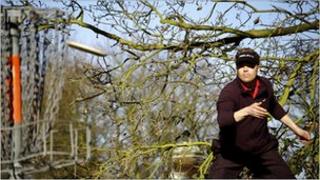 About 60 of the world's best disc golfers will be in Essex this weekend for the 33rd British Open tournament.
The competition will be held at the University of Essex in Colchester for the eighth time.
Derived from the rules of standard golf, competitors aim to get frisbee-shaped discs into metal baskets in as few throws as possible.
The campus has had a permanent course for nearly 30 years and has previously hosted the world championships.
As well as professional players, there will also be contests for amateurs and seniors.
Among the top names expected to do well are Swedes Markus Kalstrom and Jonas Hedberg.
They will tackle four rounds of the 18-hole course, the longest of which is 300m (984ft) long.
Worldwide appeal
Tournament director Charlie Mead explained that the Essex course was ideal because of its natural obstacles, including trees, lakes and hills.
The sport, which originated in the United States, is relatively unknown in the UK.
However, Mr Mead said disc golf was an extremely popular participation sport in other parts of the world.
He said: "It's huge in the States. Every small town certainly has a course and every major city would have 10 or 12 courses.
"There are literally tens of thousands of people who play every week.
"In Scandinavia it's huge because they've had government funding for it for around 25 years and have something like £5m put into their sport."
The first two rounds of the competition get under way at 10:00 BST on Saturday, with day two starting at 09:00 BST.