Clacton Air Show to go ahead despite Red Arrows crash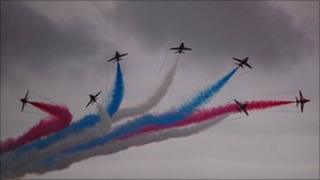 Organisers of an air show in Essex have said it will go ahead despite the death of a Red Arrows pilot at the weekend.
The fleet, which has been grounded, was due to perform at the Clacton Air Show on Thursday and Friday.
Flt Lt Jon Egging, 33, was killed when his Hawk T1 aircraft crashed after a display at Bournemouth Air Festival on Saturday.
Tendring District Council said it was "unlikely" they would appear and was preparing alternative displays.
More details on the plans are likely to be announced on Tuesday, after the council has held talks with the Red Arrows and the show's flight director.
Full investigation
All RAF Hawk aircraft have been taken out of service as part of a national grounding of Hawks after the Bournemouth crash.
A full investigation into the crash is under way.
The popular aerial display team was due to be part of the 20th Clacton Air Show.
Among the other flight displays planned are the Battle of Britain Memorial Flight, Sea King Search and Rescue, Gerald Cooper Aerobatics, Tutor, Tucano and the Breitling Wingwalkers.
Councillor Stephen Mayzes paid tribute to Flt Lt Egging.
He said: "They have been regular visitors to our show over the past 19 years and everyone was deeply saddened to learn of the tragic events.
"It will be a very difficult time for everyone involved with the team."