Southend hotel to be converted into homeless centre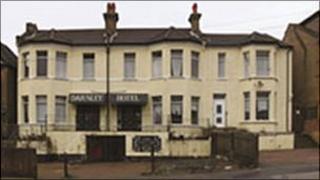 A charity is to convert a disused hotel in Essex into a 24-hour homeless accommodation and training centre.
Plans by the Homeless Action Resource Centre (HARP) to use the former Darnley Hotel in Southend as its new base have been approved by the borough council.
The building, which has stood empty since the hotel closed in 2005, will provide up to 21 emergency beds.
The chair of HARP's trustees, Richard Hair, said: "It's much more central and provides everything under one roof."
The refurbished building in York Road will replace the charity's two existing buildings in the town.
Currently it has 14 beds at its existing night shelter, also in York Road, while its day centre in Westcliff was described by Mr Hair as "not absolutely fit for purpose".
Mr Hair said: "It will mean our clients won't have to walk all the way from York Road into Westcliff and back again.
"We have a very good track record and some wonderful people working for us who will do a very good job in providing what's needed in those locations."
'Make a difference'
The new centre will be able to cater for 25 people at lunchtimes and an additional 40 throughout the day to use the facilities and attend training courses.
Mr Hair said he understood the concerns of some local residents that it would lead to an increase in antisocial behaviour.
He said: "We're coming into an area which has severe needs, it has a huge level of difficulties.
"But there are very, very few service providers and the great thing we think HARP will be able to do is bring these services into the area and really make a difference, as opposed to taking it down."
Funding will come from the charity's benefactors, although Mr Hair admitted the organisation was still looking to raise an extra £400,000 towards the project.
He said: "It will be good, it will be very good. But if we can find another £400,000 it will find everything needed."