Red Arrows confirm absence from Clacton Air Show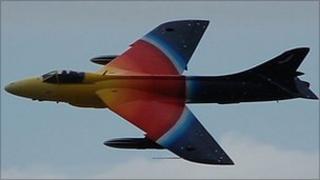 Organisers of an air show in Essex have confirmed the Red Arrows will not be taking part at this week's event.
The aerial display team was due to perform at the 20th Clacton Air Show on Thursday and Friday.
However the fleet's Hawk T1 jets have been grounded following the death of one of its pilots at the Bournemouth Air Festival last weekend.
The Hunter Miss Demeanour, Sabre Fighter and Catalina aircraft have been booked by organisers in their absence.
Tendring District Council said negotiations to bring in further displays were continuing.
Among the other flight displays planned are the Battle of Britain Memorial Flight, Sea King Search and Rescue, Gerald Cooper Aerobatics, Tutor, Tucano and the Breitling Wingwalkers.
'Mark of respect'
Flt Lt Jon Egging, 33, was killed when his Hawk T1 aircraft crashed after a display on Saturday.
All RAF Hawk aircraft have been taken out of service as part of a national grounding of Hawks after the Bournemouth crash.
A full investigation into the crash is under way.
Councillor Stephen Mayzes, cabinet member for tourism and community life at Tendring District Council, said the show would pay tribute to Mr Egging.
He said: "Everyone is behind the decision to continue with the event despite the tragic incident over the weekend.
"We have been contacted by many people asking if they can show their backing for the Red Arrows by wearing articles of red clothing.
"It would be great to see a sea of red at Clacton as a mark of respect for Jon and support for the team."
Flying is expected to begin at 14:00 BST on Thursday and 13:00 BST on Friday.