Pilots prepare for 20th Clacton Air Show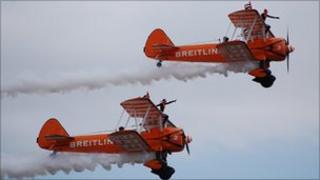 The flight director of an Essex air show says pilots have been "rallying round" to fill the gap in the programme left by the Red Arrows.
The display team had to pull out of this week's Clacton Air Show following the death of one of its pilots at the Bournemouth Air Festival, last weekend.
A number of alternative displays have been booked at short notice for the free event on Thursday and Friday.
Display director Ian Sheeley admitted it had been a "bit of a challenge".
"Obviously being a midweek show a lot of the civilian pilots have got proper jobs during the week and display at weekends," he said.
"But people have rearranged diaries in order to make sure we're able to put on the best display possible at Clacton."
Show 'must continue'
Tens of thousands of people are expected to attend the free two day show, which is marking its 20th year.
The popular Red Arrows were due to appear on both days, but its fleet of Hawk T1 jets have been grounded following the death of Flt Lt Jon Egging, 33, on Saturday.
The Hunter Miss Demeanour, Sabre Fighter and Catalina aircraft have been booked by organisers in their absence.
They will join the Battle of Britain Memorial Flight, Sea King Search and Rescue, Gerald Cooper Aerobatics, Tutor, Tucano and the Breitling Wingwalkers.
Mr Sheeley, of air display management company TSA Consulting Ltd, explained many of the pilots had been at last weekend's Bournemouth Air Festival.
He said: "They were all connected, all involved and they wanted to just rally around. That's the sort of spirit there is within aviation and the air show community.
"They all want to make sure the shows can continue while the Reds are grounded."
Flying is expected to begin at 14:00 BST on Thursday and 13:00 BST on Friday.
BBC Essex will have commentary on 729 MW and online from 13:20 BST on Thursday and 12:50 BST on Friday.