Colchester park and ride gets the go-ahead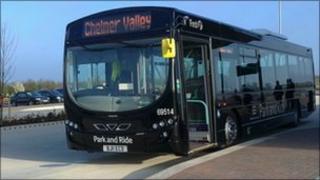 Plans for a park and ride scheme in Colchester have been given the green light by Essex County Council.
The £3.4m site, next to junction 28 of the A12 to the north of the town, will initially hold 650 cars, with a second phase adding a further 350 spaces.
Construction of the Cuckoo Farm site is expected to start next spring and open in December 2012.
Buses will run every 10 minutes into the town centre on six days of the week between 07:00 and 19:00.
The plans were approved by the council's development and regulation committee.
Exact details of how the park and ride will be funded are yet to be agreed.
The buses will run along the Northern Approach Road towards Colchester North Station and then head into the town centre.
It is hoped an extension to the Northern Approach Road from Defoe Crescent to the park and ride site will be completed before the scheme starts operating.
The Colchester park and ride will become the third in Essex, with two already serving Chelmsford.