Dale Farm: Neighbour doubts eviction will go ahead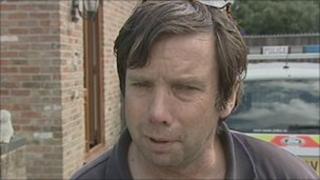 A man whose home backs on to the UK's largest illegal travellers' site has said he does not believe an imminent eviction order will be enforced.
Eighty-six families have until midnight on Wednesday to leave Dale Farm in Essex following a 10-year legal battle.
Len Gridley, 52, of Oak Road, Crays Hill, opposes the site and was arrested on Saturday on suspicion of making threats to cause criminal damage.
He said he thought the travellers would get an injunction to stop any eviction.
Supporters and well-wishers gathered at Dale Farm from Saturday and helped form Camp Constant in protest at the eviction order from Basildon Council.
Council officials, supported by Essex Police, are expected to move in some time in September if travellers on the site's illegal pitches do not leave.
Travellers own the site and began moving in 10 years ago, but some pitches do not have planning permission.
Mr Gridley, who has been released on bail pending further inquiries, said he thought the problem would "go on for the next couple of years".
"I don't think it [an eviction] will go ahead in the next couple of weeks," he said.
About 50 people attended Camp Constant over the Bank Holiday weekend, with others expected on Tuesday and Wednesday as the deadline looms.
The council has said forced clearance was a last resort but that it was open to discuss future accommodation needs with the families.
The Department of Communities and Local Government said the developments at Dale Farm had been found to be in breach of planning law and that Basildon council was within its rights to evict the travellers.