Stone Cross market redevelopment in Harlow completed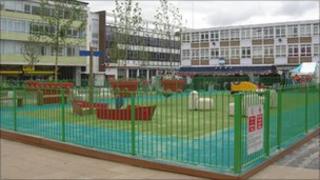 A £150,000 scheme to redevelop a market square in an Essex town has been completed.
Work on the Stone Cross market in Harlow has included the replacement of the metal stalls with new designs.
An area has also been laid with artificial turf, and large trees in planters put in place to make it feel less windswept.
Harlow Council hopes the work will help to increase the number of both traders and shoppers to the area of town.
Conservative councillor Russell Perrin said: "We've really worked hard to try and make it a more family-friendly area.
"Ever since the other end of the town centre was regenerated, trade has left this part of the town to some extent."
Mr Perrin hoped the new look to the market, which was the town's first market when it was built in 1956, would also encourage new traders to use the facility.
He said: "We hope to get more people, younger people or maybe people who've got a little home business coming here and trying to trade, grow and expand."