Olympic mountain bike legacy consultation to begin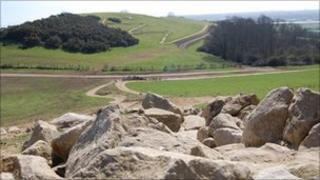 People in Essex are to be asked their views on the future use of the 2012 Olympic mountain bike venue.
The purpose-built three mile (5km) course at Hadleigh Farm will host the Olympic competition next August.
Essex County Council will start a month-long public consultation on 1 September on how the site should be used post-Games.
It will also ask for residents' feedback on the official test event that was held in July.
The consultation will also involve Olympic organising committee LOCOG, land owners The Salvation Army and Castle Point Borough Council.
The council has already committed to adapting the course after the Games to make it more suitable for public use.
It will also look into ways of making it suitable for other uses such as walking, horse riding and running.
Around 40,000 residents of Hadleigh will receive a questionnaire by post.
They will also be asked about their thoughts on the London Prepares test event, which saw 5,000 spectators descend on the south Essex town on 31 July.
The consultation will look at issues such as communication from event organisers, parking, traffic management and community involvement.
An online version of the questionnaire will be available to people living elsewhere the county.
The county council's Conservative cabinet member for the 2012 Games, councillor Stephen Castle, said: "With many people with many different interests across the county, this consultation gives us an opportunity to listen to what is important to our residents."
The consultation will close on 30 September.