Essex man's parasail death fall in Turkey 'accidental'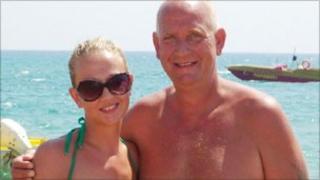 The wife of a 50-year-old man from Essex who died in a 150ft (46m) fall from a parasail in Turkey is to lobby authorities to tighten regulations.
Father-of-two Glenn Hudson, 50, was on a parasailing trip with his daughter Emma, 26, when he fell last summer.
Roof tiler Mr Hudson, from Wivenhoe, was strapped to his daughter when his harness snapped on 24 July 2010.
At an inquest at Chelmsford Crown Court, coroner Caroline Beasley-Murray recorded a verdict of accidental death.
Outside the hearing, Linda Hudson, 52, said she had visited the resort in Side, Turkey, this year on the anniversary of her husband's death.
She said another tourist fell to the ground after a parasail cable snapped while she was there. In that case there was no injury.
Tourists 'take care'
Mrs Hudson said: "He was too good a man to die for nothing and I am determined that the Turkish authorities should be forced to tighten up safety regulations as a result of this.
"Until that happens I would urge all tourists to be extremely careful."
In March this year, the driver of the speed boat, and the owner of the parasailing company, were found guilty of criminal negligence.
They were each sentenced to 20 months in prison by a Turkish court.
Because the men are appealing against their convictions, Mrs Beasley-Murray said she could not record a verdict of unlawful killing.