Witham train station's £2.2m second entrance opened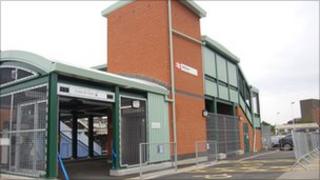 A new £2.2m entrance and footbridge at a railway station in Essex has been officially opened.
Witham station's second entrance connects the car park directly to the four platforms via an extension of the existing footbridge.
It is expected to save commuters around three minutes by shortening the walk from the car park to the platforms.
The extension has been jointly funded by Essex County Council, Network Rail and the Department for Transport.
Witham is one of the busiest commuter stations in Essex, with 1.4m journeys to work outside of the town being made from the station per year.
Until now people have had to walk from the car park along Easton Road, over a road bridge and up Albert Road to get access the station.
The chair of the Braintree and Witham Rail Users Association, David Bigg, has long campaigned for the bridge extension to be built.
He said: "It's a nice moment. Some people thought it would never come but I never lost the faith.
"We've had to do a lot of hard work behind the scenes, but today after 20 years of hard campaigning we've got our footbridge."
He added it should reduce "passenger congestion" at the main entrance.
'Important project'
Two-thirds of the money for the project came from Essex County Council.
Conservative councillor Tracey Chapman, cabinet member for highways and transport, believed it was money well spent.
She said: "There are so many people that use this station and so many people who have requested this extension.
"Lots of people need to be able to access the station and so this was a very important project for us.
"Plus it also makes it also a lot easier for those who are disabled."