Braintree Arts Theatre prepares for debut season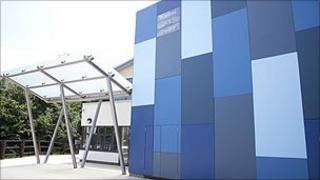 The manager of a new theatre has said he hopes it will become an important part of the Essex arts scene.
The Braintree Arts Theatre embarks on its inaugural season as a professional venue on Saturday.
The 300-seat venue will host national theatre tours, comedy, music concerts, film screenings and children's shows.
Theatre manager Ash Pickard admitted it was "very brave" to attempt to start up a new venue but he believed there was need for something like it in the town.
He said: "There wasn't anything of this scale in Braintree and the closest ones are in Chelmsford, Colchester or Sudbury.
"So I think the town was in need of a venue like this so you don't have to travel as far. Now the arts are coming to Braintree."
Mr Pickard, who has previously worked at a number of theatres, including the Mercury Theatre in Colchester, has been involved with the venue for two years.
'Forgetting the gloom'
It was initially built at the town's new Sixth Form to be used for school and local community productions, but with the long term intention of becoming a professional venue.
Despite tight economic times, Mr Pickard believed the time was right to attempt to take the step up.
He pointed to the increased box office sales for the Edinburgh Festival as a sign that there was still a demand for the arts.
He said: "People are still willing to spend their very little spare cash on going out and choosing entertainment.
"I think with us offering that a lot closer to home, we're giving them more opportunity of forgetting the doom and gloom for a couple of hours."
An Evening with Gervase Phinn will be the theatre's first event on 3 September.