Athlete and Example to headline Brownstock Festival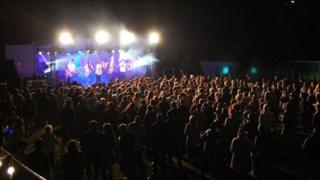 Up to 5,000 music fans are expected to attend the Brownstock Festival in Essex this weekend.
The festival near South Woodham Ferrers will have over 100 acts and will be headlined by Athlete and Example.
As well as Ms Dynamite, Shy FX and a DJ set from Pendulum, much of the line-up will be made up of unsigned Essex acts.
It will be the seventh year of the festival, which began as a small event for local bands of friends of the Brown family who own the Morris Farm venue.
In those first few years bands would play on the back of a lorry trailer to people sitting on hay bales.
Music director Mat Dixon said the event had grown to the stage where they were able to attract top-10 chart acts such as Athlete and Example.
He said: "As it has grown in popularity we've just been able to achieve more.
"I was Example's tour support DJ so have been on quite good terms with him.
"I just rang him up and asked if he wanted to get involved and he's totally behind the whole concept of it."
'Home-grown festival'
As for getting Athlete on the bill, Mr Dixon explained it had come about through mutual friends.
He said: "They'd heard about the festival before we went to them with an offer and they were really keen to get involved.
"They kind of like the fact it's a local home-grown festival that's done well."
Among the Essex bands playing will be New Town Kings, Missing Andy, The Magistrates and Doll Set Tones.
Plans to expand the festival for up to 10,000 people in future years are being considered by organisers.
But according to its music director, there is no intention for it to get too big.
Mr Dixon said: "We certainly have no grand designs on getting to that sort of size.
"I think we'll be quite happy with a 10,000-people festival ticking over nicely with everyone having a good time."
The festival takes place from Friday to Sunday.