Harlow firm Pitney Bowes plans to relocate 450 jobs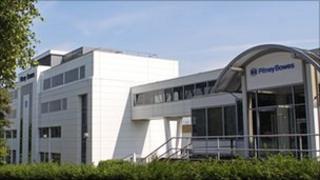 A major employer in an Essex town has announced plans to relocate hundreds of its jobs to Hertfordshire.
Communications management firm Pitney Bowes has had a presence in Harlow since 1962 and employs 650 people.
It has proposed to move 450 of those jobs to a location near Hatfield, Hertfordshire, as it was unable to find suitable new premises in Harlow.
Harlow Council and the town's MP said they would try to do all they could to keep the jobs in the town.
The move to an as-yet unidentified site would take place next year.
The company, which handles office equipment such as printers, franking machines and shredders, plans to find a new location for the remaining 200 staff who will stay in Harlow.
It said its current premises at the town's Pinnacles site was no longer "fit for purpose" and said the cost of its refurbish was too high.
Pitney Bowes' UK managing director, Patrick Jelley, said: "After so many years based in Harlow we had hoped to find suitable premises close by, but this proved impossible given our space requirements.
"However, we still aim to remain a major employer in the town."
He added they hoped to retain as many of the relocated staff they and would be consulting with employees and unions.
'Historical presence'
The deputy leader of Harlow Council, Conservative councillor Eddie Johnson, said the authority would do all it could to keep the jobs in the town.
He said: "If there is a building out there that will fulfil their needs and we've got it in Harlow we'll help them find it.
"So we will sit down with them and in finer detail find out what their actual needs are and try to help to keep the residents who work in Harlow."
Harlow's Conservative MP Robert Halfon also said he would also offer his assistance to find a venue within the town.
He said: "Pitney Bowes has a valued and historical presence in Harlow.
"Further to my existing discussions, I will be meeting with employees and management.
"I will also be speaking with the government's minister for business."
Pitney Bowes employs more than 30,000 people worldwide.