Formula One in Schools challenge for Chelmsford school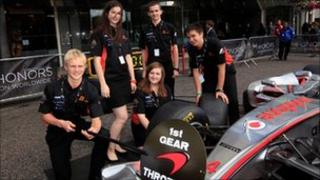 Students from an Essex school are to represent England in a Formula One schools competition held in Malaysia.
Five pupils from St John Payne Catholic Comprehensive in Chelmsford will compete against over 20 nations in the F1 in Schools Technology Challenge.
The Bernie Ecclestone-supported competition requires teams to design, build and race gas-powered model cars on a 20m track.
The students, who race as Dynamic, are the current English national champions.
They also finished fourth at last year's world competition.
The specially designed 15cm (6in) balsa wood cars travel the course in just over a second.
'Really intense'
Team manager Emily Latham, 17, said the competition was "just like real Formula One".
She said: "You have the research and design process to make it go as quickly as possible.
"The testing process is really intense because time between the cars at the world finals is literally thousandths of seconds."
The team will be marked both on the speed of their cars as well as on presentations about their projects.
Each team has to set up a fully functioning race team encompassing marketing, sponsorship and merchandise.
Miss Latham said they had spent all their spare time on completely redesigning their car since winning the national competition in January.
'Fantastic competition'
The A-level student explained they had been working with a company on some hi-tech innovations.
She said: "They've provided us with a finish that we can put on the car that will reduce the drag quite drastically.
"We're the only team this has been used with, so we're hoping that will give us a good edge over everybody else.
"This technology has only just come out and we were involved in the testing process for it going to the F1 teams with this technology, so it's groundbreaking stuff.
"It's such a fantastic competition because it gives you so many opportunities. We've been in the pits at Silverstone twice and the Singapore Grand Prix as well.
"Plus we've got to speak to the people who work in the F1 teams doing the jobs we want to do in later life."