Woman killed in fire engine crash in Basildon named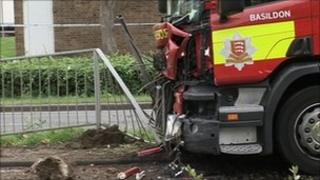 A 39-year-old woman who died after her car and a fire engine crashed in Essex has been named as Martha Gakonde.
The collision happened as crew left a fire station in Broadmayne in Basildon on Friday morning.
The woman, from Wythefield, in a Toyota Yaris, was certified dead at the scene. The firefighters were not injured.
"The fire engine was responding to a crash on nearby Pitsea Road involving two vehicles. An 11-year-old girl was cut free from a vehicle," police said.
A section of the eastbound carriageway was closed for six hours while forensic investigators carried out inquiries.
Any witnesses to the crash are urged to contact Essex Police.