Family tribute to Basildon fire engine crash victim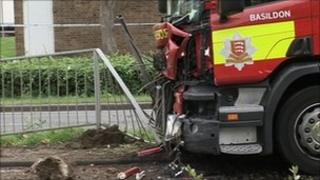 The family of a woman who died after her car and a fire engine crashed in Essex paid tribute to her as police renewed their appeal for information.
Martha Gakonde, 39, from Wythefield, was killed on 9 September in a crash at Broadmayne, Basildon, when the fire crew was answering an emergency call.
The mother of three was described by her family as generous, caring and devoted to them.
Essex Police want anyone who may have witnessed the crash to contact them.
No firefighters were injured during the incident.