Little Havens Children's Hospice beach hut scoops award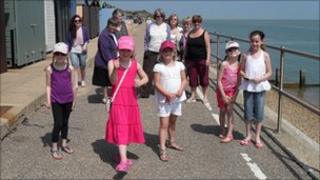 A children's charity in Essex has picked up an award in a national beach hut competition.
Little Havens Children's Hospice won the Best Story category in the Beach Hut of the Year competition for its hut in Clacton-on-Sea.
The hut was donated to the charity last year and is used to provide day trips for children being cared for by the hospice and their families.
A picture of a row of huts in Thorpe Bay won the Best Photograph category.
Little Havens care for life-limited young people aged up to 19 years old.
Amy Dearing of the Thundersley-based charity's fundraising team explained their beach hut allowed families to "take some time out".
She said: "The judges were thrilled and inspired by our application and we were just delighted to have been given the award.
"We do find parents are maybe more relaxed up there and start talking to each other. So it's been great for forming relationships and forming friendships."
'Lucky and grateful'
The beach hut was given to them by the daughter of a man the charity only knows as John, who lived in Brighton.
After he died she approached several charities to submit a proposal for how they would use it.
Ms Dearing said: "We're so lucky and grateful that she donated it to us."
She admitted from the outside it "doesn't look that attractive at the moment".
"But we are looking to hopefully renovate it over the years to make it really stand out and put our Little Havens stamp on it."
Also victorious in the competition, run by Coast magazine, was Julian Abel who won the Best Photograph category for his shot of huts at Thorpe Bay.
He said: "The weathered beach huts in this picture match the moody weather of the British summer.
"I really didn't expect to win, I'm over the moon."