Increased flooding fears for some west Essex villagers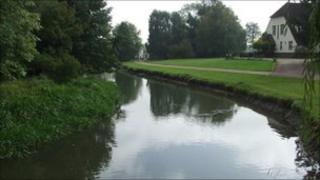 A number of homes in Essex could see an increased risk of flooding under proposals by the Environment Agency.
Eighteen properties along the River Roding, north of Great Canfield, could be affected as part of planned changes to the management of the river.
The Environment Agency is looking at reducing its maintenance work along some parts of the river in order to focus resources further downstream.
It said the changes would reduce the risk of flooding for 1,000 properties.
The 28 mile (45km) river runs from Molehill Green, near Stansted, to the River Thames at Dagenham.
In a public consultation, which closed on Monday, the Environment Agency proposed to increase resources in areas such as Woodford and Redbridge, where urbanisation had meant the flood risk was greater.
'Real worry'
As a result, a number of areas in the northern catchment of the river, near Leaden Roding, Fyfield and Birds Green, would have a reduction in river maintenance, such as repairs to existing structure and clearing of vegetation, or see the maintenance end completely.
Fyfield resident Doug Kelly, one of the people whose home could be more at risk, said: said: "I'm very concerned. I don't know how high the water is likely to rise in future compared to what it has done in the past.
"One wonders how many properties that have been on the borderline are now going to be at real risk. So there is a real worry."
The Environment Agency's Dak Gor said the current maintenance work in the northern catchment was not cost effective.
He admitted some properties would see a "slightly increased risk of flooding".
He said: "We will work with them to determine exactly what the flood risk is, how much it will increase by and what measures we can take to alleviate them a little bit."
Conservative Epping Forest district councillor Tony Boyce said the authority had met with the Environment Agency to raise its concerns.