Green-belt housing scrapped by Castle Point council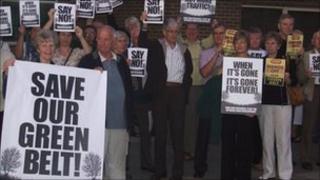 Proposals that could have seen hundreds of houses being built on green-belt land in Essex have been scrapped.
Castle Point Borough Council voted to reject its local strategy for development on land in Benfleet, Hadleigh and Thundersley.
The plans had been drawn up to meet the government's target of 3,500 new homes in the area over the next 15 years.
The authority will now wait to see how the government's forthcoming Localism Bill affects planning.
Concerns were also raised that the guidelines could make it harder for them to stop developers building on green belt land.
It took the council six years to draw up the core strategy.
Conservative councillor Bill Dick rejected suggestions the process had been a waste of money, saying the council had to "listen to the people".
He said: "One of my fears and my colleagues' fears was we were going to just agree developments for land banking, which might be something my children and grandchildren would regret."
He added they would now work with local MP Rebecca Harris to arrange a meeting with the housing minister.
"[We want to] see if we can get a buffer zone from now until we can get this new plan into place, so we can defend what we want and what the people want."
Hundreds of people attended the meeting at the council's offices in Benfleet to protest against the plan.
'Brave decision'
Benfleet resident Ian Harding said he was "relieved" by the outcome.
He said: "There's obviously a need to build and to cater for future generations and expand within the community.
"The biggest issue that we've found from this is the fact there was no communication between the residents and the councillors, which is a major problem."
Former Labour councillor Joe Cooke said the council had made a "brave decision" in rejecting the strategy.
He said: "If they're genuinely saying they want to go back and listen to the people, it gives us the opportunity to have more imaginative schemes that are better for the district."