Stansted Airport firefighters give helmets to Macedonia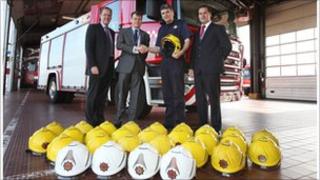 Firefighting equipment no longer needed at Stansted Airport has been donated to crews in Macedonia.
Thirty helmets have been given to the charity Operation Florian, which sends equipment to developing countries.
Station manager Darren Barthram said the helmets were available as a result of their regular replacement programme.
He said: "They've got a number of years of life in them, they're all fully serviceable and we wouldn't donate anything that wasn't."
Operation Florian was set up in 1995 to provide firefighting training and equipment to developing countries and areas affected by war or natural disasters.
This was the latest batch of gear to have been donated to the UK charity from the station based at the Essex terminal.
Mr Barthram believed it made more sense for the Cromwell helmets to be used elsewhere, rather than "left on the shelf to deteriorate".
He said: "There's a real appreciation for even some of the small equipment that's been donated in the past, like some small cutting equipment.
"It's equipment that they never could afford and it really gives them an opportunity to try and bring their capability up to something we take for granted."