Piggyback world record to be attempted in Colchester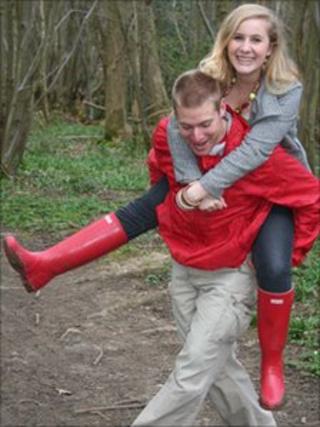 An attempt to break the world record for the largest piggyback race will take place in Essex this weekend.
The current record of 296 people, or 148 pairs, was set by clothing firm Diesel Jeans last November.
It broke the previous mark set in Colchester a few weeks earlier, which was organised by the Christian charity, the History Maker Foundation.
The charity is aiming to reclaim the title with an event at the town's Lower Castle Park on Sunday.
The record attempt will require the piggy back pairs to race along a 100m (328ft) course.
Anna Pancaldi, from the History Maker Foundation, said: "We'd love to beat it with a good number, not just by an extra two.
"It's for absolutely anyone of all ages. Last year it was such a great event and this year we're meant to have absolutely fantastic weather."
The inspiration for the record attempt came from a family photo of Joey Pancaldi giving his sister Charity a piggyback.
When Mr Pancaldi died in a mountaineering accident in Scotland in 2008, his family set up the foundation to fund trips for disabled and disadvantaged children to the Compass Christian Centre in Perthshire, where he worked.
Miss Pancaldi said: "We wanted something positive to focus on, which is what the History Maker Foundation has done for us."
Registration for the world record attempt takes place at 14:30 BST, with the race starting at 15:30.