London 2012: Opening ceremony chance for town crier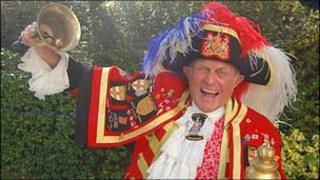 A town crier from Essex is in the running to be part of the opening and closing ceremonies of the London 2012 Olympic Games.
Tony Appleton, who performs the role in Chelmsford and Romford, has been invited to take part in a rehearsal for the event on 4 November.
He will then find out whether he will play a role in the celebrations.
The 75-year-old said: "It would be a massive and fantastic privilege which I would be very proud of."
He added: "If it comes off I don't think I'll be sleeping for a few weeks in the build-up to it."
Mr Appleton, who has been a town crier for 20 years, said he applied after seeing the role advertised by the games' organisers, LOCOG.
He has performed at several large events over the past two decades, the largest being the New Year's Day parade in London.
But he admits the prospect of having the eyes of 80,000 people in the stadium and millions of people worldwide on him would be a "a hairy one".
He said: "I think I'm going take some lessons on the different countries before I get on board to make sure I get them right."