Colchester-based 16 Air Assault Brigade soldiers honoured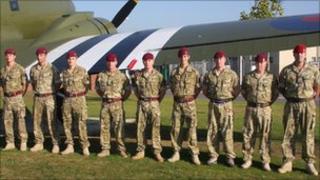 Dozens of soldiers from the Colchester-based 16 Air Assault Brigade have been honoured for leadership and bravery during their recent Afghanistan tour.
The unit served as part of Operation Herrick 13 in Helmand Province between October 2010 and April.
The soldiers were among 140 military personal named in the latest Operational Honours list.
Brigadier James Chiswell MC, who commanded the brigade's tour, will receive a CBE, it was announced.
Acting Colonel Andrew Harrison, the former commanding officer of 2nd Battalion, will receive a Distinguished Service Order.
Lt Col James Coates, Commanding Officer of 3rd Battalion The Parachute Regiment, is to be awarded an OBE for his leadership and innovation.
'Tremendous honour'
He was honoured for devising and implementing a strategy which "largely broke" insurgency in an area of Nad-e Ali.
His citation read: "He set the benchmark across the whole of ISAF (International Security Assistance Force) in Afghanistan as the exemplar in exploiting the emerging surveillance technology."
Col Coates said: "This is a tremendous honour for me and it was a real privilege to command such a high quality group of people in Afghanistan.
"Their dedication and professionalism is reflected in the awards received across the Battlegroup at all levels."
He also paid tribute to the soldiers from the brigade who were killed during the tour.
They included Pte Martin Bell, 24, of 2nd Battalion The Parachute Regiment, who will receive a posthumous George Medal for lifesaving valour and Pte Conrad Lewis, 22, of 4th Battalion The Parachute Regiment, who receives a posthumous Mention in Dispatches for gallantry.
The 16 Air Assault Brigade is the Army's largest brigade with 8,000 personnel.