Dale Farm: Travellers could move to supermarket car parks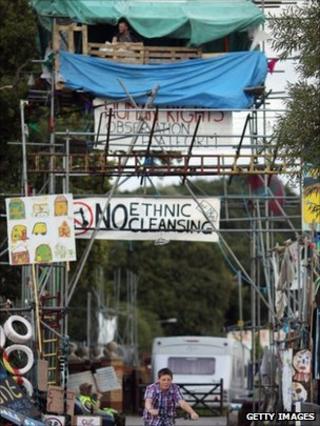 Residents of an illegal travellers' site at Dale Farm, Essex, could move to supermarket car parks if ordered to leave, a High Court judge has heard.
Travellers have taken legal action in an attempt to stop Basildon Council evicting them from Dale Farm.
A barrister representing travellers at the site near Basildon told Mr Justice Ouseley many of the hundreds of residents would move to car parks.
Christopher Jacobs said such a move would lead to "disruption".
The council has been battling for a decade to remove travellers from the Dale Farm site, which is in the green belt and thought to house about 400 people on 50 pitches.
Mr Jacobs, for Dale Farm residents, told the judge: "Many of them would go to one or two supermarket car parks in the area with all the attendant disruption that would contain."
Mr Jacobs said "over 400 people, including over 100 children" would be left without "suitable accommodation" if the site was cleared.
Mr Jacobs said there was a chance that travellers could move to lawful sites and they were willing to do that.
He argued that eviction should be temporarily halted - "stayed" - until the possibilities of travellers moving to lawful sites had been fully explored.
Reuben Taylor, for Basildon Council, said the idea that there were likely to be lawful sites to move to in the near future was not a "realistic prospect".
Mr Taylor added: "In my submission that is simply a ruse." The hearing continues on Monday.
'Family divided'
Meanwhile, two sisters who live near each other on the unauthorised part of the Dale Farm travellers' site have spoken of how a High Court ruling over the clearance of the site is set to divide their family.
A ruling on Basildon Council's planned clearance of the site means people on four out of 51 unauthorised plots can stay.
Mother-of-two Nora Sheridan lives on plot 26 while her sister Margaret Flynn lives on plot 28.
Mrs Flynn and her children can stay, but Mrs Sheridan's caravan must go.
Mrs Sheridan said: "We just don't understand the logic. Our plots and our caravans are virtually identical and yet one of us can stay and the other has to go."
Theirs is a situation which is being replicated across the six-acre site.
Live next door
Nora Egan, who must leave, and Margaret McCarthy, who can stay, live next door to one another.
The court's judgment earlier this week, which outlines what Basildon Council can do in each plot, has left the best friends confounded.
Mrs McCarthy said: "I don't understand why my chalet will be saved and my best friend Nora's will be knocked down."
Mrs Egan added that the pair had lived next door to one another for 10 years and their children had grown up together.
She said: "The idea of separating them is devastating and is making me ill."
'Justice grinding slowly'
Basildon Council leader Tony Ball has said the wheels of justice were "grinding slowly" but "going forward".
While he has admitted to being frustrated by the delays and complications, he said he expected the site to be cleared.
He said the council would be back in court again on Monday and the judge had indicated there would be a judgment by Tuesday at the earliest.
He added: "The council has a responsibility to enforce the law. The travellers have a responsibility to comply with the law."