Colchester piggybackers claim new world record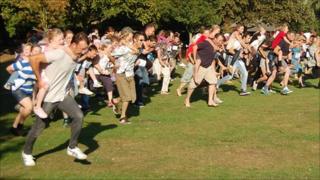 More than 300 people in Essex have taken part in a bid to set the world record for the largest piggyback race.
The attempt, in Lower Castle Park, Colchester, aimed to beat the record of 296 people, set by clothing firm Diesel Jeans last November.
Sunday's event saw a total of 326 people, or 163 pairs, take part in the race along a 100m (328ft) course.
Organisers the History Maker Foundation will now await verification of the record from Guinness World Records.
Anna Pancaldi, from the Colchester-based charity, said they were "absolutely thrilled" with the new benchmark.
She said there were some anxious moments before the race as they tried to get people to take part.
'So happy'
She said: "We were definitely worried, because some people, I think, thought it was simply too silly, but it was brilliant fun.
"But we've managed to get a really good number, which is what we wanted and we are so, so happy and a bit teary."
The attempt to "reclaim" the record for Colchester was held after the charity held a similar event last October, which involved 294 people.
This was subsequently bettered a few weeks later in London.
The inspiration for the record attempt came from a family photo of Joey Pancaldi giving his sister Charity a piggyback.
When Mr Pancaldi died in a mountaineering accident in Scotland in 2008, his family set up the History Maker Foundation to fund trips for disabled and disadvantaged children to the Compass Christian Centre in Perthshire, where he worked.
Miss Pancaldi said once the record had been verified the charity might look into organising an attempt on a different record.
She said: "I'm sure we will do something next year. We want to keep winning these things for History Maker Foundation, which is such a wonderful charity for the memory of our brother."