Holland-on-Sea coastal defence work to begin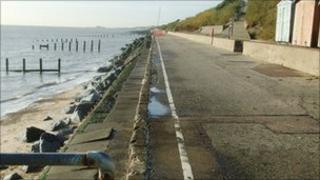 A £2.2m project to protect sea defences at an Essex coastal resort is set to begin.
The work in Holland-on-Sea, near Clacton, will see the installation of a 230m (754 ft) "deep rock revetment" in front of the sea wall.
About 16,000 tonnes of rock will be used to create the structure between Fernwood Avenue and Cliff Road.
The work, which is being funded by the Environment Agency, is expected to take six months to complete.
Tendring District Council said there was a possibility the sea wall could fail without the new defence, resulting in the cliffs behind it collapsing.
The majority of the rock will be brought in by boat, with an additional 25 lorry loads coming by road.
The council's Conservative cabinet member for technical services, Pam Sambridge, said the work was urgently needed.
She said: "It is vital that we press ahead with this scheme to stabilise the existing seawall and protect against further damage caused by the action of storm seas."