Walton-on-the Naze pier put up for sale for £2.5m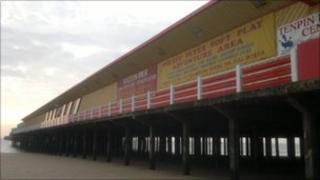 The UK's third longest pleasure pier has been put up for sale.
The New Walton Pier Company Ltd said it was looking for offers in the region of £2.5m for the pier in Essex.
The 795m (2,610 ft) structure was built in 1898 and is a busy tourist attraction.
Tim Gooding, of selling agent Christie and Co., said: "We've only been offering this for a week, but we've had some interesting calls already."
"Piers are unusual. But I think the unusual nature of it will attract more demand.
"They do sell because they do generate money and are no different to any other business really."
The New Walton Pier Company Ltd bought the attraction in 2005.
According to the sale details, it recorded a turnover of £1.3m in the year ending March 2011.
Mr Gooding said the company was selling the pier in order to reinvest the money into other aspects of its business.
He said: "They are expensive things to maintain and upgrade.
"But the owners have spent a fair amount on the property and there's no reason to think of it not working in the future."