Tony and Barrie Drewitt-Barlow deny 'clinical trial errors'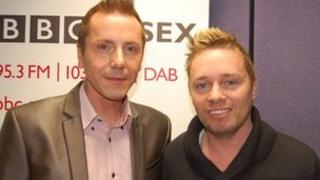 Two Essex businessmen did not act with "reasonable care" when they conducted clinical trials, a court has been told.
Tony, 47, and Barrie Drewitt-Barlow, 42, of Chandlers Quay, Maldon, who were Britain's first gay surrogate parents, denied one charge of providing false information to an ethics panel.
The pair, who ran Euroderm Research, also deny two counts of not conforming to protocol when conducting a trial.
The pair appeared before Southwark Crown Court on Wednesday.
They also deny two charges of conducting a clinical trial otherwise than in accordance of good clinical practice.
The couple let youngsters who suffered from the skin condition eczema take part in a study more than once - against research protocol, the court was told.
The couple are standing trial accused of fabricating test results for two clinical trials, one of them for children's medication, between July 2006 and June 2007.
The Medicines and Healthcare Products Regulatory Agency, which is prosecuting the case, said it was the first case of its kind to go to court under the Medicines for Human Use (Clinical Trials) Regulations.
The couple stand in the dock alongside three employees, Dr Alex Morgan, Mandie Mayes and Dr David Shuttleworth, of their company Euroderm Research - which had offices in Chelmsford, Essex, and Manchester but went into liquidation in March 2008.
Dr Morgan, 65, of Corporation Street, Holloway, north London, is charged with two counts of contravening the regulations; Ms Mayes, 50, of Mill Road, Maldon, Essex, is charged with four counts; and 58-year-old Dr Shuttleworth, of Chappel Road, Fordham, Colchester, Essex, faces five charges.
Prosecutor Sir Derek Spencer said: "We submit that none of the defendants were in fact acting with reasonable care and all due diligence."
The trial continues.