Hadleigh Old Fire Station reopened as arts venue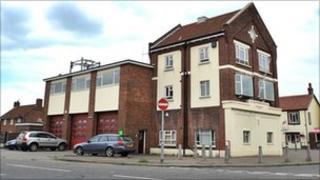 A former fire station in south Essex has reopened as artist's studios and a community centre.
Hadleigh Old Fire Station, which closed in 2009, is now home to studios for 15 artists while the former appliance hall will be used by community groups.
It will be run by arts organisation ACAVA on behalf of Essex County Council which bought the building in 2010.
The council will use it as a visitor centre for the nearby Olympic mountain bike course during the 2012 games.
The former Station E35 building, located on the A13 through the town, closed when its crew was relocated to Rayleigh Weir.
The £1m project was funded by Essex County Council, Castle Point Regeneration Partnership and the Homes and Communities Agency.
Conservative county councillor Stephen Castle said it formed part of the regeneration of Hadleigh town centre.
He said: "I think creating an artists' space whilst at the same time still keeping the feel of the fire station, with the poles and doors on the engine bay, is a great combination."
The councillor said he hoped it would play an important role at next year's Olympics.
"First it provides a home for artistic and creative talent as part of the cultural Olympiad, which is a really important part of the legacy of the games," he said.
"We're also very keen to get some of the teams who are going to be visiting here to come down and get people interested in cycling and physical sport."
Ben Eastop from ACAVA (Association for Cultural Advancement through Visual Art) hoped it would become "a new focus for Hadleigh".
He said: "There will be all kinds of events happening in the old appliance hall, where the fire engines were kept, ranging from drama, music, choirs and so on.
"So there'll be opportunities for people to come into the building and do different kinds of activities."