Campaigners vow to continue Southend Cricket Festival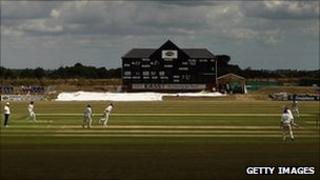 Opponents to the scrapping of a cricket festival in Essex have said they intend to keep the event going.
Last month Essex County Cricket Club announced the fixtures traditionally played at Garon Park in Southend would take place in Chelmsford next year.
About 100 supporters attended a meeting on Wednesday to discuss the decision.
Trevor Lawrence, of the Southend Cricket Festival Task Force, said: "We're not prepared to just roll over and let this festival die."
'Benefit to town'
"We will be looking to hold cricket at Garon Park [possibly] holding some different events that may or may not include Essex."
He added there were also calls for an EGM to challenge the reasons for the change.
Essex have played matches at Garon Park in Southend since 2005, and at Southchurch Park since 1906.
Traditionally the town has hosted one four-day game and one one-day match.
According to Southend Borough Council, which helped organise the meeting, the festival made a profit of £60,000 between 2008 and 2011.
Councillors are due to meet with Essex County Cricket Club in the next few weeks.
The club declined to comment on the meeting.
'Fully supportive'
When it announced its decision to move its games out of the town for 2012, it did not rule out returning to Southend.
Chief executive David East said the committee felt members of the club would be better served by the matches being held at the County Ground.
He said: "We remain fully supportive of the project to improve and grow the community facilities at Garon Park and the fulfilment of these plans may open the door for future first-class cricket at the ground."
Despite their grievances, Mr Lawrence said they would continue to support the club's on-field fortunes.
He said: "We don't want the county to suffer, but by the same token, we want first class cricket in Southend for the benefit of the town."