Chelmsford street reopens to traffic after revamp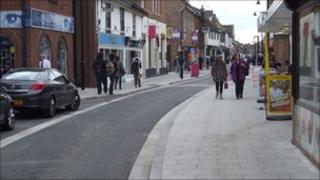 Traders in an Essex town have welcomed the reopening of a road following a five-month closure to revamp the area.
Work has been carried out in Moulsham Street, Chelmsford, to widen pavements and narrow the road in order to make it more pedestrian-friendly.
The £500,000 work was funded by Essex County and Chelmsford Borough councils.
Colin Wade, of sports equipment store Pope & Smith, said: "It's certainly a better environment for the public, so I'm hoping trade will pick up."
He added: "The first couple of weeks were difficult, but after that people got used to the mayhem that was the roadworks and now fortunately we're open and I think it will be fantastic."
The section between Parkway and New Writtle Street is the main artery into the road, which is one of the oldest commercial areas in Chelmsford.
Work has also seen new seating, cycle stands, litter bins and bollards installed.
Twenty-one of the buildings are listed and many of the shops are independently owned.
Economic impact
Jane Gayer, of the Moulsham Trade Association, said the impact of the closure on business had been varied.
She said: "Some people down the bottom of the street have really struggled with cars not being able to pull in to stop off and pick things up.
"It's hard to distinguish between the impact of the road and the impact of the economy."
Conservative Chelmsford Borough Councillor Neil Gulliver said he hoped the work would help revive the area.
He said: "It was looking very run down with empty shops and a public house sat empty for 18 months.
"That has now reopened and one or two shops have changed hands, so I think we can see the economic change we'd hoped for coming through already."