Dale Farm: Time for talks over, says council boss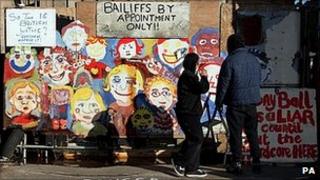 As bailiffs prepare to clear the UK's largest illegal travellers' site at Dale Farm in Essex, residents have been told: "The time for talking is over."
Basildon Council leader Tony Ball confirmed negotiations had ended and that evictions were now imminent.
Travellers locked down the Dale Farm site on Tuesday and some threatened to chain themselves to barricades.
Gratton Puxon, from the Gypsy Council, said: "We have no option now but to resist."
On Tuesday, Basildon Council officials met travellers at the police compound at Barleylands near the site, but the talks broke down after 10 minutes.
Protesters then wedged two cars and a Russian military truck behind the entrance to Dale Farm and said three people would chain themselves to the gate at dawn on Wednesday.
'Millions wasted'
Mr Puxon said the council was unwilling to negotiate and was "mustering police and bailiffs" to begin the eviction at 08:30 BST on Wednesday.
He added: "The council is going to make families homeless without providing any alternative. Millions of pounds will be wasted.
"We have no option now but to resist the eviction and we hope to do that in a peaceful manner, if the bailiffs allow us to."
Mr Ball refused to say when evictions would begin, but said: "The time for talking is over. We have given the travellers every chance to leave peacefully and they have not taken it.
"Now our job is to clear the site in a safe and humane manner. My biggest fear is that somebody - be it a bailiff, a police officer, a traveller or a supporter - gets hurt.
"I would call on those inside Dale Farm to behave sensibly and responsibly."
Several caravans had been crammed on to the few plots that the bailiffs cannot touch, a spokesman for the residents said.
The number of supporters inside the site has fallen from more than 100 a month ago to fewer than 50.
A similar number of travellers remain in their homes.
On Monday, residents were refused permission to appeal against a High Court ruling giving Basildon Council the go-ahead to evict them.
Travellers had asked for leave to appeal against a decision to allow the council to clear 49 plots.