Olympic Dreams: Rayleigh archers to be Games Makers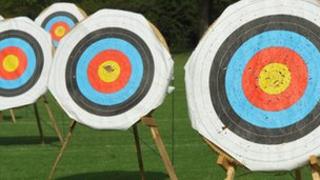 An archery team from Essex has become one of the first three clubs in the UK to be named as Games Makers for the 2012 Olympic Games.
Young members from the Rayleigh Town Archery Club have been picked to assist at the archery event that will be held at Lord's cricket ground.
They will be among the 70,000 volunteers who will be used by the games organisers Locog.
Coach John Wilson said it was "an honour" to be part of the event.
He said: "It's something to look back on when they're in their old age to say 'I was there and I helped'."
During the archery competition they will help to collect arrows and be involved in the medal ceremonies.
Eight of the club's members, aged between 16 and 18, took part in the official test event at Lord's earlier this month.
Mr Wilson said: "They're up and running, they've got their [training] uniforms and so will now just wait for the games."
Up to 250,000 people applied to be Games Makers, with about 300 people a day undertaking 30-minute interviews.
Councillor Stephen Castle, Essex County Council's Conservative cabinet member for the 2012 Games, said it was "fantastic" that Essex would be represented at the Games in this way.
He said: "It's a testament to their success and the skills we have through Essex that our club has been picked from thousands of applicants."
The archery contest will run from 27 July to 3 August, with 128 competitors involved.