Dale Farm: Man charged over violence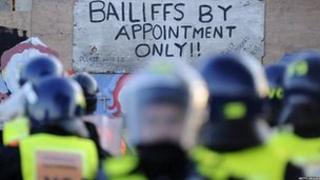 A third person has been charged after the clearance of Dale Farm travellers site in Essex.
A 26-year-old man, who gave no address when arrested, has been charged with violent disorder.
On Saturday, a 63-year-old man from the Crays Hill area was charged with committing a public order offence.
A 26-year-old woman from Hounslow was charged on Thursday for failing to remove a face covering.
All three have been released on bail to appear before Southend magistrates on 2 November.
Debris thrown
A total of 34 arrests were made during the clearance of the UK's largest illegal travellers' site on Wednesday.
A further six people have since been arrested.
The majority of those arrested have now been released on police bail.
Bricks and debris were thrown as police moved through the former scrapyard in Essex.
Forty-nine of the 52 plots will now be removed by bailiffs who moved on to the site on Thursday.
The majority of the clearance is likely to get under way on Monday.
A spokesman for Essex Police said officers would remain on the site to protect property and maintain the peace while bailiffs continued their work.