New Essex Police Special Constabulary chief sets out aims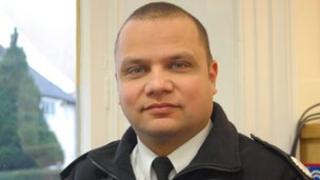 The new chief officer of the Essex Police Special Constabulary has said he intends to make the force the best of its kind in the country.
Leon Dias will lead the county's 569 volunteers who make up the country's second largest special police force.
The 40-year-old, who has been a special constable for 15 years, said he was taking over the role at a "quite challenging" time for the police.
Mr Dias said he was "immensely proud" to be taking up the role.
He said: "I want to make sure we've got the best special constabulary in the country.
"When one of my officers turns up to somebody's house that's been a victim of crime, they don't need to know it's a special constable, the level of service should be exactly the same."
'Love policing'
Special constables work alongside their regular colleagues, often providing cover for officers who are pulled onto large operations.
With Essex Police having to save £41m by 2014 as part of the government spending review, Mr Dias was aware the role of the Special Constabulary would be as important as ever.
He said: "We're taking the opportunity to change the structure of the specials to make sure we've got all the right people in all the right places."
He hoped to increase the number of specials in Essex to around 600, particularly in the Harlow and Clacton areas.
As Assistant Chief Officer, Mr Dias led the planning for the specials' role in the recent Dale Farm eviction.
He was also involved in their plans for next year's Olympic Games and Queen's Diamond Jubilee celebrations.
Mr Dias fits his role alongside his day job of running a residential care home for adults with learning difficulties.
He said: "I love policing, I wanted to be a police officer but my career took off in a different direction.
"When you're out there and have got the uniform on, you don't think or feel different from a regular colleague."