Court injunction to stop Dale Farm return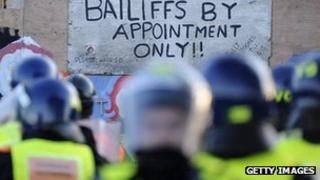 The council evicting travellers from the illegal part of the site at Dale Farm in Essex has applied for an injunction to prevent its reoccupation.
Basildon Council has applied to the High Court and a preliminary hearing is expected on Friday.
Council leader Tony Ball said: "This is routine practice following a site clearance."
He said 46 of the 51 illegal plots had been cleared, but claimed some residents planned to return.
No static caravans remain on site, he added.
Mr Ball said: "We believe that some previous residents of Dale Farm plan to illegally reoccupy the site and an injunction, if granted, will put them in contempt of court for doing this.
"I would urge that travellers do not use Dale Farm for residential purposes, and from now on comply with the law and find new sites legally."
The Dale Farm clearance, which began last month after a major police operation to remove protesters, followed a decade-long row over unauthorised travellers' plots on the six-acre site.