BBC Essex local radio station marks its 25th anniversary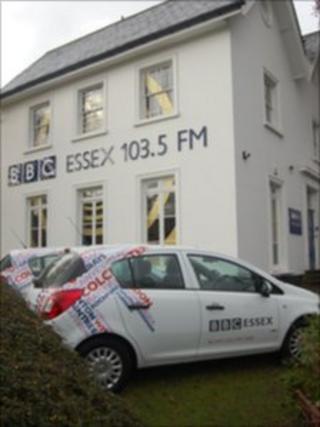 Two of the original presenters at BBC Essex have been recalling their first few days at the local radio station, 25 years after it went on air.
The station began broadcasting on 5 November 1986, with its breakfast show presented by Alex Lester.
Dave Monk and Ken Crowther were among the original team and continue to broadcast programmes on the station.
Mr Monk said: "I came in at five o'clock in the morning because I wanted to be here from that first moment."
"The first few hours were very nervy and we were all banned from going anywhere near the studios because Alex [Lester] was very nervous about taking a station on the air for the first time."
'Utter shock'
Mr Monk originally presented the breakfast show on Saturday mornings.
Ken Crowther was a gardening expert on this and a number of other programmes, including a Saturday afternoon programme with Jules Bellerby.
He said: "I'll always remember that first Saturday; I was sat there and looked across to Jules and said 'do you think anyone is listening?' which of course went down really well!
"The phones just went mad for gardening which was a complete and utter shock for me, because up until that time I'd had nothing to do with radio."
Among the stories covered by the station since it began were the hurricane of 1987, the opening of the Queen Elizabeth II Bridge in 1991 and protests against live animal exports in Brightlingsea in 1995.
In 1999 it reported on the crash of a Korean cargo jet near Stansted, in 2005 the fire at Southend Pier and most recently the eviction of travellers from Dale Farm.
Presenters and staff who have worked at the station before moving on include Alex Lester, Paddy O'Connell and Richard Bilton, plus sports presenters Mark Pougatch and Jonathan Overend.
Mr Monk said: "People have been getting in touch with me over the last few weeks about the approaching 25th anniversary.
"They've been saying 'we've been listening to you from day one' and that is fantastic, it really it is."
BBC Essex will be broadcasting a documentary marking its 25th anniversary at 11:00 GMT on 5 November.