Bishop of Chelmsford sets out 15-year transformation plan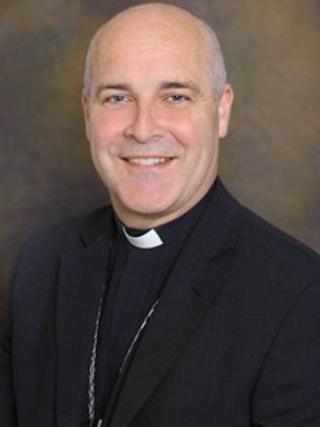 The Anglican Bishop of Chelmsford has set out his strategy for how the Essex diocese should look by 2025.
Bishop Stephen Cottrell unveiled his 'Transforming Presence' paper at a meeting of the diocesan synod.
He said the church had to face the prospect of fewer paid clergy, and parishioners needed be more evangelical and more open about their faith.
The church, he stated, would "simply carry on managing our decline" if it did not change over the next 15 years.
Bishop Cottrell said: "What we've done is set the compass. We need to work out what is the best route.
"This consultation will bring 1,000 people from right across the diocese saying 'we know where we want to go to - how are we going to get there?'"
The Chelmsford Diocesan Synod passed a resolution supporting the paper on Saturday and will discuss it further in January.
The diocese covers 500 parishes across Essex and in five boroughs of east London.
One of the biggest challenges facing the diocese was the running of its churches, Bishop Cottrell said.
'More prayerful'
About 47% of its paid clergy are due to retire over the next decade and the number of people being ordained is "worryingly low".
Bishop Cottrell said the diocese needed to look at how it used its paid clergy and envisaged more lay people and unpaid ministers performing ministry roles.
He said: "It's not going to be the case that every church has its own vicar. Churches will be grouped together with a vicar having an oversight of the church.
"Within the different Christian communities, there will be lay leaders or some self-supporting ministers leading them."
Bishop Cottrell also felt Anglicans needed to be "more evangelical" about their faith.
He said they could not rely solely on Christenings, funerals and marriages to spread its message to people.
He proposed at least one person in each parish to be trained in evangelism.
Bishop Cottrell also believed living a "distinctively" Christian life and learning "to be more prayerful" were also of high importance.
People, he said, should find it as "natural to talk about Jesus as it is to talk about football or Eastenders".
New archdeacon posts in the areas of Barking, Colchester and Bradwell will also be created with the intention of narrowing the gap between the diocese and parish churches.