Children in Need: Powerchair club scores with Pudsey cash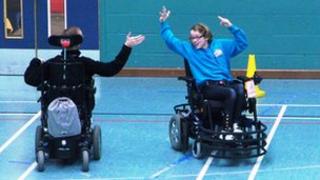 The head of a disability football scheme in Essex has described the importance Children in Need money has had in its formation.
The Essex County Football Association runs monthly powerchair football sessions for people who use wheelchairs or have a severe physical impairment.
The project received £44,000 from the charity towards specialist equipment.
Its coach, John Manning, said: "It meant we have funding for three years, of which we're now in our second."
He added: "The chairs range from £4,000 upwards, so although we had some interest from clubs in starting this up, financially it was just not feasible."
Up to 16 children and adults regularly attend the sessions at the Riverside Leisure Centre in Chelmsford.
Teams of four-a-side play in specially-adapted electric wheelchairs, using a larger ball than regular football.
'New friends'
Mr Manning, senior football development officer at the Essex County FA, hoped the club would continue to grow, starting with some friendly games in the new year.
The long-term aim was to have a team in the national league and help players in Essex to progress to that level, he added.
Thirteen-year-old Sally has already started playing for one of the national league teams, based in Watford.
She said: "I used to go horse riding, but that closed down, so I had nothing to do.
"My dad found this session in Chelmsford. I went there and gave it a go and loved it.
"I've made lots of new friends, I've only missed one session with John and that was because I was on holiday. That's how much it means to me."
One of her team-mates is seven-year-old Ellie, who as a result of having meningitis as a baby, is a four-limb amputee.
Her father, Paul Challis, said: "She loves any sport and is a really determined little girl who will try anything she can.
"When we go down she's straight in the chair, she loves it and is not bad at it as well."
Mr Challis said he was thankful for the opportunity the Children in Need money had given his daughter.
He said: "We've probably all done things for Children in Need over the years and put money in.
"So when you see a direct use its made, and how happy it makes the children there, it's a marvellous use of the money."