Woman killed in 'savage' stabbing, Chelmsford Crown Court hears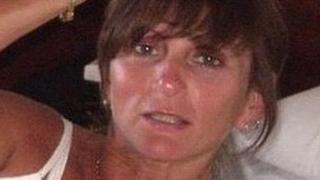 A man stabbed a woman from Essex more than 50 times to the neck, head and chest in a "savage" attack after she answered her door, a court has heard.
Howard Livings, 30, of Maysent Avenue, Braintree, denies murdering clerical worker Tina Bennett, 47, on Easter Sunday.
Prosecutor Andrew Jackson told jurors at Chelmsford Crown Court Mr Livings had carried out a "planned attack".
He left her in a pool of blood, Mr Jackson added.
Her sister, Andrea Bennett, made the discovery when she visited the house after growing concerned when Ms Bennett failed to arrive for a family lunch on Easter Monday.
'Died in minutes'
Mr Jackson said Mr Livings, who knew Ms Bennett "slightly" as she was his best friend's aunt, arrived at her home in Keeble Way in the early hours armed with a large kitchen knife and cable ties.
Mr Jackson said: "Once they were in her living room, in what we say was an act of sustained and savage brutality, he murdered her.
"Defence wounds to her hand and arms show she fought desperately to defend herself. But the blood loss from her heart meant she died in a matter of minutes."
Mr Jackson said Mr Livings injured his own hand in the attack and threw away his wallet and trainers on his way to Broomfield Hospital in Chelmsford.
He then constructed a "web of lies", saying he had been the victim of a robbery, he added.
Jurors heard that Mr Livings had helped with some DIY work at Ms Bennett's home in the past, so knew she was single and lived alone in her home.
The trial is expected to last two weeks.