Castle Point residents asked to identify brownfield sites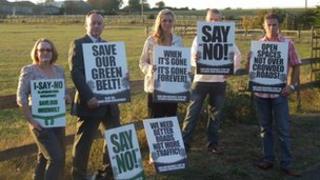 People in parts of south Essex are to be asked to help identify brownfield sites for housing development.
Castle Point Borough Council is looking to find previously used land to fulfil its housing need, after rejecting its previous planning strategy.
The idea of asking residents to help find potential sites is being led by Conservative councillor Andrew Sheldon.
He said: "We'd rather have them on brownfield sites than sacrificing our beautiful greenbelt sites."
In September the council voted to reject its local strategy for development on land in Benfleet, Hadleigh and Thundersley.
The plans had been drawn up to meet the government's target of 3,500 new homes in the area over the next 15 years.
'Homes needed'
The document included the views of a government planning inspector, who had told the authority it would have to allow building on some greenbelt land.
Local people raised concerns that those plans could have seen hundreds of homes built on greenbelt land.
Mr Sheldon said they were waiting to see how many homes would be required in the borough if the new localism bill is passed.
He said they did not agree with the previous target, which he believed was "way off".
He said: "We do need some homes.
"Ideally I'd love for it to be on brownfield sites as much as possible. If it isn't, then we've tried.
"If we can squeeze an extra 100 houses on brownfield sites then that's an extra 100 that we don't have to look elsewhere for."