London 2012: Essex tourism looks for Olympic boost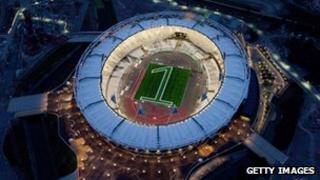 Tourism providers in Essex have been urged to maximise the opportunities arising from next year's Olympic Games.
Representatives from local attractions and businesses met at the annual Visit Essex Conference in Grays.
Items discussed were the direct impact on tourism and how the county could promote itself during the games.
Visit Essex vice-chairman and Conservative county councillor Jeremy Lucas said he believed there would be a "huge legacy" from 2012.
He said: "The country as a whole, and our two venues in particular, are going to be televised across the world and people are going to see not just the event, but the surrounding area.
"What we're hoping and expecting is people, whether they are here or not, to see and think 'that's an interesting place, we must go there'."
The tourism industry in Essex employs about 54,000 people and contributes £2.8bn to its economy.
Extra passengers
Mr Lucas acknowledged while some tourists may stay away from the south east of England during the games, they still represented a good opportunity for its attractions, hotels and B&Bs.
Essex will host the Olympic mountain biking event in Hadleigh, while North Weald Airfield will be used as a park-and-ride site for the white water events at Broxbourne.
Stansted Airport is expecting about 100,000 extra passengers before, during and after the games.
One area where Mr Lucas believed the county could particularly benefit was in providing alternative accommodation to London.
He said lessons had been learned from the Millennium celebrations when prices increased dramatically.
"Nobody expects to spend over the odds now, everybody is having to be careful," he said.
"If it is the case that London hotels are getting more expensive then that's a very good reason for the Essex hotels to operate at their normal levels, which I think most of them are intending to do."
The 2012 Olympics have been forecast to generate £2bn through tourism across the UK.