Essex Police praise DNA database after sex attack conviction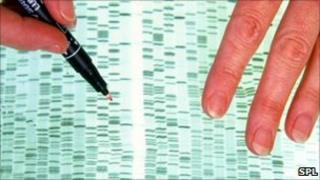 The national DNA database proved "uniquely crucial" in an investigation that led to the conviction of a sex attacker in Essex.
But police fear the service that helped to link Lawrence Button to the sexual assault of a former University of Essex student, in 2009, may be scaled back.
Button, of Littlebury Gardens, Colchester, was convicted after a DNA sample was taken on his arrest over a separate incident six months after the attack.
Changes in government policy and steps by civil liberties groups could however limit access to what one officer described as a "massive investigatory tool".
Det Sgt Richard McNamara, who investigated the case, said: "It's not the only thing we use, but sometimes it's the clincher.
"In the unique circumstances of [the Button] investigation, it was the DNA alone that convicted the man, because we never had any other evidence, [such as] witness and physical evidence."
'Billion to one'
On Friday, Button was convicted, at Chelmsford Crown Court, of the sexual assault on the then 22-year-old woman, in woodland in Wivenhoe in December 2009.
Mr McNamara explained after six months of investigations officers had all but exhausted their inquiries.
He said they were close to conducting a mass DNA screening in the local area, when Button's profile match came to light.
In May 2010, he was arrested for a domestic assault and his DNA was taken as a matter of routine.
Mr McNamara said: "Within days of it being on the database we were informed.
"The odds, we were told, were over a billion to one, so we were quite confident we'd got the right man."
The national database is believed to hold over five million DNA profiles and has often been a source of debate.
The retention of DNA, particularly of people found to be innocent, is currently under discussion as part of the coalition governments' Protection of Freedoms Bill.
Civil liberties group Liberty has said it believed the current retention of innocent people's DNA to be "disproportionate" and "discriminatory".
It said it was working to ensure a "more proportionate and human rights compliant DNA retention regime".
Mr McNamara accepted that people's human rights need to be considered.
"But what I would say is try to put yourself in the difficult position this young lady found herself in," he said.
"She's gone through that trauma for six months not knowing who had attacked her and, if I'm honest, without the database she'd still be wondering who it was now."
Button was released on court bail but placed on a night curfew prior to his sentencing on 16 December.