Fire service in Essex unveils specialist flooding vehicles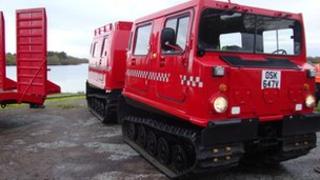 Specialist equipment designed for use during severe flooding has been unveiled by the fire service in Essex.
Essex County Fire and Rescue Service (ECFRS) has signed a deal with a supplier that will give it access to bespoke vehicles worth more than £1m.
The equipment includes a six-wheel-drive technical rescue unit, an amphibious personnel carrier, quad bikes and speed boats.
The service said it would be used for "once in a lifetime incidents".
The vehicles will be used to transport fire crews and their equipment in severe weather.
Deputy chief fire officer Gordon Hunter said these included "major widespread flooding on the scale seen in recent years in other parts of the UK".
V Festival
"Essex is a high risk area for flooding. Only this week we had a coastal flood warning in place," he said.
ECFRS will pay £22,000 each year to Cambridgeshire-based Spartan Rescue in order for access to its equipment and trained operating staff.
Mr Hunter said: "If we bought that equipment we'd have to maintain the skills of our firefighters to use it and it would be sitting in garages collecting cobwebs waiting for this once-in-a-lifetime incident.
"So it's much better to have this contract which costs us on a yearly basis 25% of what one fire appliance would cost."
The vehicles could also be used to provide cover for large events in the county, such as the Olympics and V Festival.